STEEL SINGLE KIT INVISIBLE TYPE 3/89 (QUARTER 49) LHI/RHO 18" X 96"
Description
Technical Information
Shipping & Returns
Reviews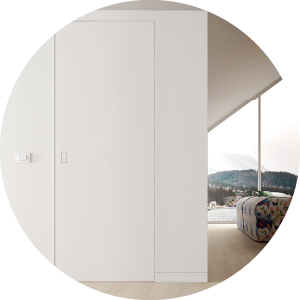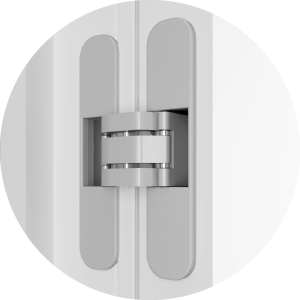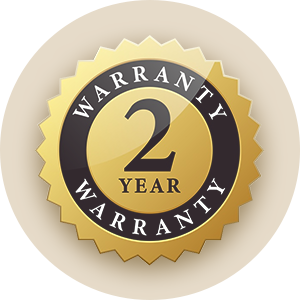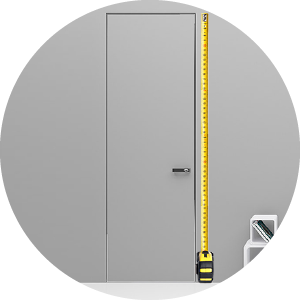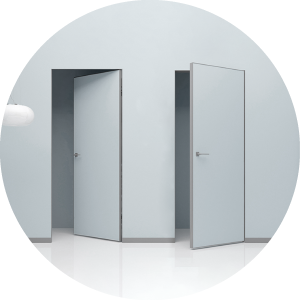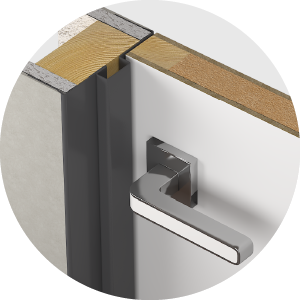 Create striking lines in your design and implement clean, minimalistic concepts with the Belldinni Concealed Door Frame-System.
Give your doors class with flush in the wall, frame-less appearance.
No distracting architraves.
Seamless door finishes.
Stay in tune with your minimalist aesthetic style.
This frame is only for 1 3/4" thick doors.
The frame has already been precut for AGB Magnetick lock and Otlav invisible hinges.
The frameless door jamb by Belldinni features a steel frame that allows you to give your doors a "flush finished" look, constructed so the frame is hidden from view and the door panel lies on the same level as the wall.
The system allows for the concealed frame to sit embedded in your wall, hidden by either drywall or paneling.
The jamb fits walls with 4-9/16'' – 5-1/8'' thickness.
The invisible frame comes with perforated jambs for flush setting and assembling, giving the doorway a frameless smooth look, with clean and inconspicuous lines.
You can use any door model by Belldinni, e.g. flat, grooved, etc., and it must be 1-3/4 thick.
By using adjustable concealed 3D hinges, our design ensures that the movement and positioning of the slab allows you to open your doors whichever way you require.
The jamb should be painted with water emulsion paint. This type of paint can be used to match the slab to the wall color, or glue a lining paper to the door.
Suitable for residential application, including apartments, new homes, hotels, and rural housing communities.
This frame is for left / right hand outswing door constructions.
To tell your door's outswing, stand in front of the entrance to your room:
If the hinges are on the left-hand side, the knob on the right-hand side and the door opens towards you, then this is a LEFT-HAND OUTSWING DOOR.
If the hinges are on the right-hand side, the knob on the left-hand side and the door opens towards you, then this is a RIGHT-HAND OUTSWING DOOR.
Please follow the instructions given in the installation guide to achieve maximum performance and avoid cracking/stress marks on door and frame surfaces.
| | |
| --- | --- |
| Expected Door Slab Thickness: | The frame can be used only with 1 3/4″ thick door slabs. |
| The concealed frames can be installed in door openings with varying wall thickness: | 4 9/16" — 6" |
| Swing Directions: | left / right outswing |
| Type of finish: | Wear-Resistant Primer |
| Stock Color: | White |
| Frame Construction: | Adjustable Split-type Concealed Frame |
| Frame Material: | Cold rolled galvanized steel |
| Jamb Width: | 4 23/32" |
| Jamb Stell Thickness | 0 3/64″ (1 mm) |
| Jamb Thickness: | 27/32" |
SHIPPING AND ORDER CONFIRMATIONS
After your order has been placed, you will receive a confirmation email.
Once your order has shipped, you will receive a second email; if your order requires multiple shipments, you will receive a corresponding number of email confirmations about them. Please keep these emails (invoices) in your mailbox.
---
ADDRESS RESTRICTIONS
We don't send the orders to military APO/FPO addresses or PO Boxes. Please provide a valid physical address during the ordering process.
Orders are shipped from Monday to Friday and across California, Nevada, Arizona. All doors are safely shipped in a specifically designed secure crating system which ensures that your order arrives in a perfect condition.
---
SHIPPING*
The orders are shipped via LTL (for large items) or carriers (for small items).
LTL shipping is curbside only, unless otherwise required, at the customer's expense. The delivery time varies depending on the final destination.
However, the average is 5-7 business days for the West Coast.
Orders are shipped only across California, Nevada, Arizona. Please contact Doors Los Angeles directly for all orders outside the contigous US.
---
WILL CALL SERVICE
The customer can arrange delivery of his order on his own. In that case you need to call us and inform about your arrival time at the warehouse to arrange for pickup. You will receive an email with instructions, time and date to pick up your order.
Please note that all orders must be placed in advance. You will not be able to purchase a door from the warehouse, as it does not provide retail service.
---
Learn more
Get a Quote
If you are interested in receiving a quote, please fill out the form below and click on the "Request a Quote" button.