Optima 4H Veralinga Oak Belldinni Modern Interior Door
Description
Technical Information
Shipping & Returns
Reviews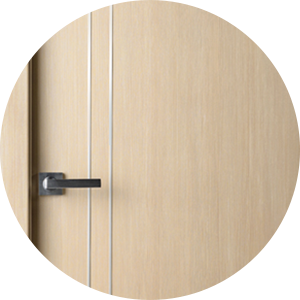 Optima collection of interior doors is an ideal clean option for the elegance in your house. This collection is the pure epitome of beauty and grace, with no complex designs that will give an overall decent look to your apartments. The flush interior door emphasizes elegance and simplicity. The clear lines show all the craftsmanship features of the door. Pure Flush construction will favorably highlight the advantages of the surrounding interior while remaining a self-sufficient and striking element of home design.
Optima performs an engineered solid core that saves your privacy due to soundproof features without weighting the slab. We use a technologically advanced insulating core with a density of 12,5 lb/ft3. A solid pine frame gives additional durability to the door slab.
Polypropylene (PP) is an innovative eco-friendly finishing material with the heavy texture and color of the real wood species. Its high endurance, scratch resistance, and non-fading features make PP an ideal solution for commercial applications and kitchen, bathroom, children's room in residential projects.
Shiny aluminum strips create a wonderful visual effect. Reflections of light give the door design a unique individuality. Optima 4H Veralinga Oak is decorated with 4 strips that form 5 identical panels and bring spectacular modern style.
The natural beauty of the dark oak is conveyed through the surprisingly precise structure and color of the wood. This PP finish gives a completely natural look that ideally matches timeless classic interiors. In addition, eco-friendly PP is scratch and water-resistant, without sunlight fading and discoloration.
| | |
| --- | --- |
| Door series | Optima 4H |
| Type of Finish | Polypropylene (PP) |
| Stock Colors | Veralinga Oak |
| Slab Construction | Solid Frame, Solid Core |
| Stock Height | 79 3/8'', 83 1/4'', 92 1/2", 95 1/4'' |
| Stock Width | 17 13/16'', 23 13/16'', 27 13/16'', 29 13/16'', 31 13/16'', 35 13/16'' |
| Slab Thickness | 1 3/4'' |
| Jamb Width | 4 9/16'' |
| Jamb Thickness | 3/4'' |
| Casing Width | 3 1/2'' |
| Extension width | 2 1/8'' |
| Wall covered by jamb with adjustable casing | 4-9/16'' — 5-1/4'' |
| Wall covered by jamb with extensions and adjustable casing | 4-9/16'' — 6-7/8'' |
| Additional design elements | 4 horizontal aluminum strips |
| Possibility to install an automatic door bottom | Yes |
SHIPPING AND ORDER CONFIRMATIONS
After your order has been placed, you will receive a confirmation email.
Once your order has shipped, you will receive a second email; if your order requires multiple shipments, you will receive a corresponding number of email confirmations about them. Please keep these emails (invoices) in your mailbox.
---
ADDRESS RESTRICTIONS
We don't send the orders to military APO/FPO addresses or PO Boxes. Please provide a valid physical address during the ordering process.
Orders are shipped from Monday to Friday and across California, Nevada, Arizona. All doors are safely shipped in a specifically designed secure crating system which ensures that your order arrives in a perfect condition.
---
SHIPPING*
The orders are shipped via LTL (for large items) or carriers (for small items).
LTL shipping is curbside only, unless otherwise required, at the customer's expense. The delivery time varies depending on the final destination.
However, the average is 5-7 business days for the West Coast.
Orders are shipped only across California, Nevada, Arizona. Please contact Doors Los Angeles directly for all orders outside the contigous US.
---
WILL CALL SERVICE
The customer can arrange delivery of his order on his own. In that case you need to call us and inform about your arrival time at the warehouse to arrange for pickup. You will receive an email with instructions, time and date to pick up your order.
Please note that all orders must be placed in advance. You will not be able to purchase a door from the warehouse, as it does not provide retail service.
---
Learn more
Get a Quote
If you are interested in receiving a quote, please fill out the form below and click on the "Request a Quote" button.